Ayling Property Services
Ayling Property Services was founded by Lieutenant Commander Leslie Ayling RN (Retd), a distinguished naval officer.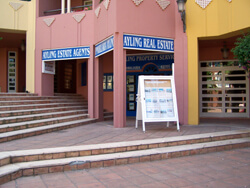 Ayling Property Services was founded by Lieutenant Commander Leslie Ayling RN (Retd), a distinguished naval officer.

Born in 1928 in Gillingham, Leslie was very proud to be known as a Man of Kent. In the summer of 1944, at the age of 15, he joined the Royal Navy as an engineering apprentice. By his early twenties, his potential was fully appreciated by his superiors and he was commissioned as an electronics and weapons engineering officer. A keen sea-going man, he served on many ships, ending up on HMS Phoebe, the fictional HMS Hero of the famous 1970's television series 'Warship'.
On a visit to Gibraltar in the summer of 73, during the filming of 'Warship', Leslie met and fell in love with Gladys Margaret Buttigieg, a teacher. In mid 1974, Leslie wangled a posting to Gibraltar as the Senior Systems Engineer and, in December 1974, on Leslie's birthday, he married Margaret. In 1977, after a tour that was both professionally and socially rewarding, Leslie left his beloved Royal Navy.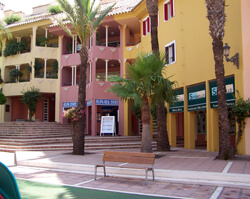 Within a few years, Leslie realized that there was a great future in real estate work in both Gibraltar and Spain. This was a bold move for one of limited means. Moreover, the border between Gibraltar and Spain had been closed for over 8 years. This meant long trips by boat to Estepona and lots of hard work but Leslie was convinced he was on the right track. In 1979, Leslie persuaded Margaret to leave her teaching job and join the business full-time. Little by little they acquired the rights to increasingly important projects and within a few years Ayling's reputation as a major force in the estate agency business was solidly established.
In 1985 they turned their attention to the prestigious resort of Sotogrande and built themselves a villa at the centre of the urbanization. Thereafter, Sotogrande would prove to be the main focus of their real estate work Highly regarded everywhere for his keen business sense and unswerving integrity, Leslie was fortunate to enjoy the full support of his wife and energetic business partner, Margaret.
A keen golfer and member of Real Sotogrande Golf Club, Leslie's easy manner and attractive personality made him many friends. He loved to take the odd break from his gruelling schedule to enjoy the occasional game. Sadly, in the mid to late eighties, he fell ill and gradually handed over the reins of the business to Margaret. On 28th September 2005 Leslie died surrounded by family and friends.
Today Margaret runs the business with the same steely determination, attention to detail and great integrity that Leslie never compromised throughout his working life. Customers of Ayling International Property Services are assured of the same high quality service that Leslie established from the very beginning.
Sotogrande Real Estate Agents, established in 1977
Founder: Lieutenant Commander Leslie Edward Ayling RN (Retd)